Worship is any act that shows devotion or love for God. Christians worship in many ways, including prayer, reading from the Holy Bible, attending the Eucharist and singing religious songs.
For where two or three gather in my name, there am I with them.

Matthew 18:20
Task: Why do you think that Christians tend to regard Sundays as a holy day?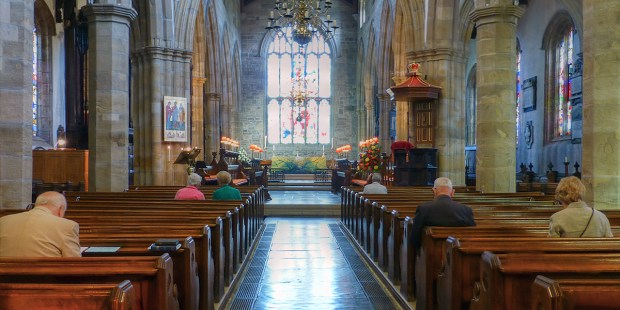 The Book of Common Prayer was introduced by the Anglican Church in 1549 and is widely used in Protestant church services. It helps the leaders of the worship to use prayers that are appropriate to each service. It is viewed as being very special, as it is written in a distinctive and poetic style that draws on the language of Shakespeare.
Task: Read this information. What is liturgical worship and what is non-liturgical worship? Give an example of each.
Task: What is charismatic worship? Read here.
Task: Watch the video. What is a Quaker and how do they worship?
Worship in Evangelical churches is non-liturgical worship. Services are informal and focus on the Bible and the adoration of God. Services can attract huge congregations, so often large auditoriums are used. These services often feature pop-style music played with instruments including electric guitars.
Many Evangelical Christians believe that the Holy Spirit is present when they worship, actively inspiring what happens during the service. This means that services can be quite spontaneous and unscripted. Evangelical Christians may clap, sing or shout at any point during a service as they worship God with their whole body, not just their mind.
Task: Research how Catholics choose to worship and write a paragraph to explain. Look at the image below and explain how it can be used in worship by Catholics.